ARCHIVE: December 2000
News from the CRS Barn Studio
and the The Troika Association
---
Luonnotar Travels to Toronto

Luonnotar (Maid of Nature), choreographed by Troika Association Artistic Director Saga Ambegaokar, travelled to Toronto and was performed at The Finn Grand Fest 2000 in July. Jill Becker, Sarah Jane Burton, Jeanne Goddard and Jean McGregor performed excerpts from a concert originally performed in 1999 at the CRS Barn Studio. Steven Stull was joined by pianist Jun Fujimoto for several Finnish songs in the program and sang The Star Spangled Banner for the festival's Opening Ceremony.


Looking For That Last Minute Gift?

Choose the gift of music! Check out the Troika Holiday Bazaar at the Songs on the Solstice concert December 20. Recordings of the featured performers on the concert include: Opera Cowpokes; The Pulse of an Irishman; I am Prospero; Echoes, Moods and Reflections; Mediterranean Magic; Gravity Hill; Fiddlespel. If you'd like a copy of any of the CDs before the concert please email crsbarn@lightlink.com or call The CRS Barn Studio at 257-2043

Baritones at the Barn, A Smash Hit!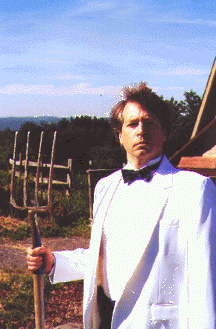 Move over Luciano! Timothy LeFebvre, Aaron Nicholson and Steven Stull joined forces this July for one our most popular concerts ever. Operatic arias, patriotic songs and musical theater favorites delighted the audience (as did the juggling and snappy patter!) Pianists Bill Pelto and Joy Ueng played for the standing room only audience. Future concerts and a CD are in the works!

Losses in Troika Association

The Troika Association recognizes three friends who have worked with us over the years as performers, composers and supporters. We will miss them. Our best wishes go to their families.

Edward Murray
Chas Hockett
Julia Webster

Performers,
Composers and
Choreographers with
the Troika Association and
the CRS Barn Studio in 2000

Elizabeth Alexander
Saga Ambegaokar
Jill Becker
Sara Jane Burton
Peter Chwazik
Elizabeth Cordes
Sarah Cummings
Donna Davenport
Max Eugene, Jr.
Jun Fujimoto
Read Gainsford
Nancy Gilbertson
Jeanne Goddard
Paul Goldstaub
Liisa A. Grigorov
Laurie Hart
René Hall
C. F. Hockett
Karel Husa
Andrea King
Richard Koski
Sally Lamb
Linda Larson
Timothy LeFebvre
Christopher Morgan Loy
Jean McGregor
Anne Mulvaney
Aaron Nicholson
Bill Pelto
Shawn Puller
Elizabeth Simkin
Mark G. Simon
Steven Stull
Joy Ueng
Claire Webster


Performer News:
Troika was invited by the New York State Council on the Arts to perform for the Alliance of New York State Arts Organizations conference in Ithaca this October. Excerpts of Luonnotar (see page 2) were showcased. Dan Booth's video, commissioned for the piece, was projected behind the dancers.

Troika and CRS Barn performers were involved with From The Horse's Mouth, a live, dance/theater documentary created by New York City choreographers Jamie Cunningham and Tina Croll and presented Nov. 4 at The Clemens Center in Elmira. Performers included Saga Ambegaokar, Jill Becker, Sarah Jane Burton, Donna Davenport, Jeanne Goddard and Susan Roebuck. Organized by Lois Welk, the large cast also included Arthur Aviles, Pat Cannon, Santo Giglio, Paul Gordon and others.

Baritones Steve Stull and Aaron Nicholson alternated in the title role of Tri-Cities Opera's production of The Barber of Seville. Peter Sicilian (an Opera Cowpoke) was the stage director and Jeanne Goddard was the choreographer. Steve took over for Tim LeFebvre who was working on San Francisco Opera's premiere of Dead Man Walking.

Steve Stull and Linda Larson will be performing for the Ithaca Opera New Year's Eve Gala .


Help Support The Troika Association!
As the end of the year 2000 draws near, please consider a gift to the Troika Association in support of future productions and performances. We are a not-for-profit organization registered with the New York State Department of Charities, No. 48968. Donations are tax deductible to the full extent of the law.

Donations can be mailed to:
The Troika Association
3 Sugarbush Lane, Ithaca, NY 1485

Songs on the Solstice, Dec. 20, 2000 5:30 pm

Are you on our email list for upcoming performances?

Look for spring 2001 performances of Baritones at the Barn
and summer 2001 performances of Opera Cowpokes!
.

Contact us for more details (see below!)

Steve's recordings

Back to: the CRS Barn Studio Homepage

contact us: crsbarn@lightlink.com


this and all pages copyright 2000 CRS Barn Studio/Steve Stull