ARCHIVE - SUMMER/ FALL 2012
UPCOMING PERFORMANCES AT THE CRS BARN STUDIO AND BEYOND

---

Hansel and Gretel
by Engelbert Humperdinck
August 10-11, 2012 - 7pm
August 12, 2012 - 4 pm

Featuring Ivy Walz and Rebecca Leistikow
as Hansel and Gretel
Steven Stull as the Father
Erica Steinhagen as the Witch
Carli Mazich-Addice as the Sand Man
Lynn Craver as the Dew Fairy


Directed by Steven Stull and Jeanne Goddard
Music Director Richard Montgomery

"HANSEL AND GRETEL" SING AND PLAY AT CRS BARN STUDIO

"Nibble, nibble, mousie, who's nibbling at my housie?" Does this familiar question conjure up images of a delicious, candy-covered house...and the evil witch who lurks inside? Revisit this classic story in a lively new one-hour production of Engelbert Humperdinck's "Hansel and Gretel" at the CRS Barn Studio, 2622 North Triphammer Road, Ithaca. Performance dates are Friday and Saturday, August 10 and 11 at 7:00pm and Sunday, August 12 at 4:00pm. Ticket prices are $5.00 for children and $10.00 for adults.

This beloved opera recounts the tale of two small children who get lost in the woods, find a magical gingerbread house, and conquer an evil witch to set their friends free and reunite with their parents. The CRS Barn Studio's updated [fresh] and compact adaptation is beautifully sung, in English, and action packed, with colorful sets and [beautiful] dancing. This professional production, perfect for families and children, is directed by Steve Stull and choreographed by Jeanne Goddard, and features favorite Ithaca singers Ivy Walz as Hansel, Rebecca Leistikow as Gretel, Erica Steinhagen as the witch, and Steven Stull as the father. Performances take place outdoors in fine weather, indoors in case of rain.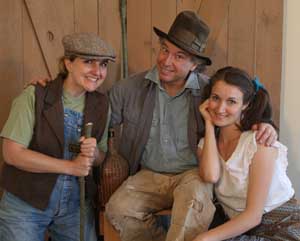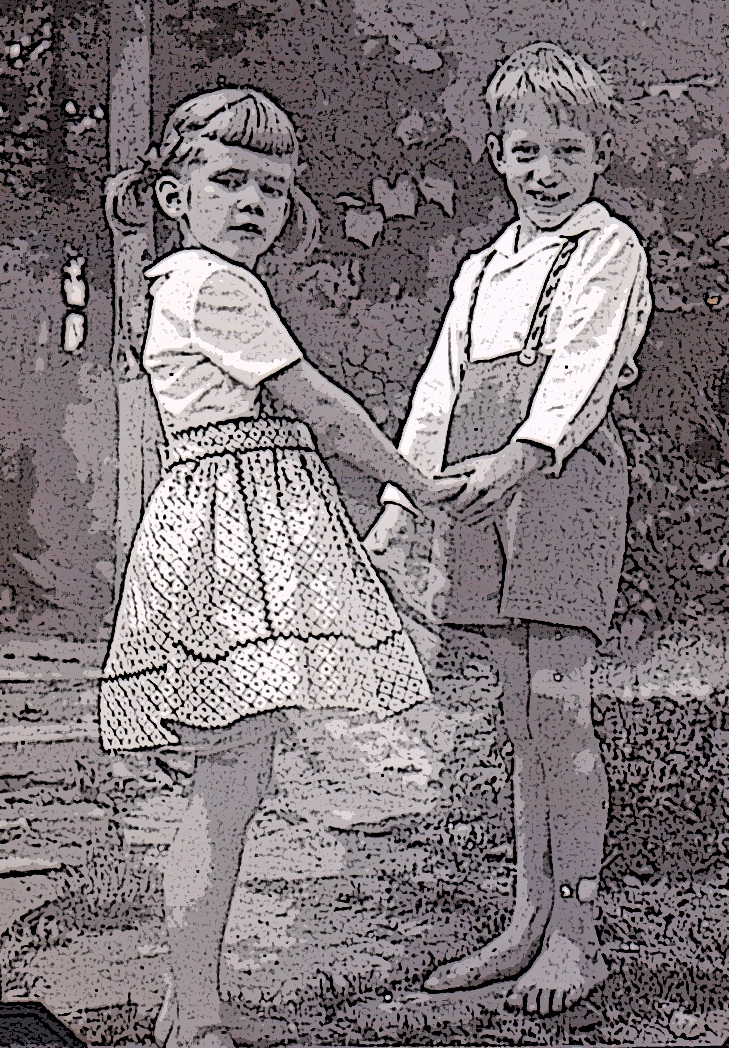 Jeanne Goddard and her cousin David in a production of

Hansel and Gretel

in 1957.


*************************************************************

Moving Landscapes V
Saturday, August 18, 2012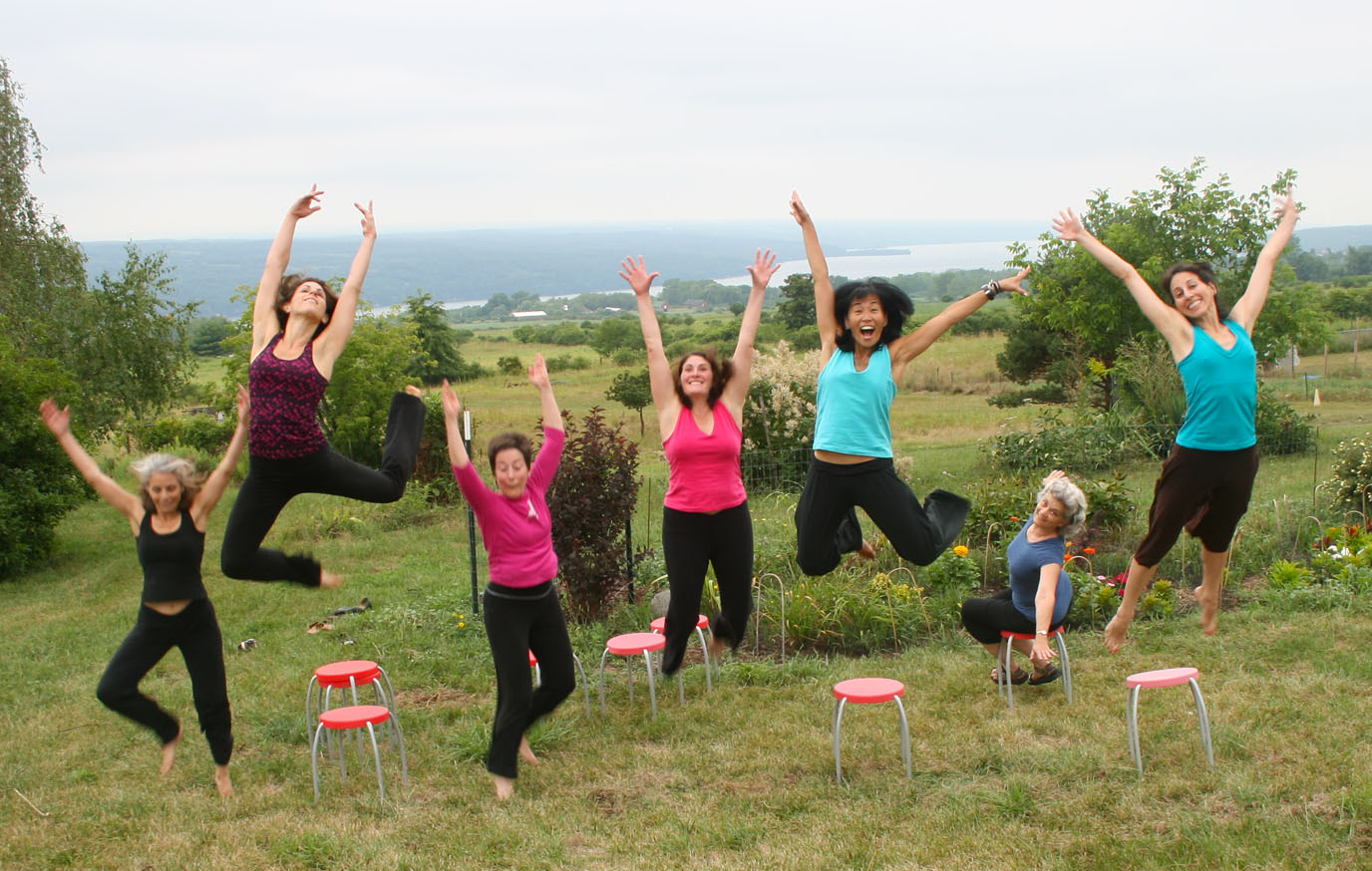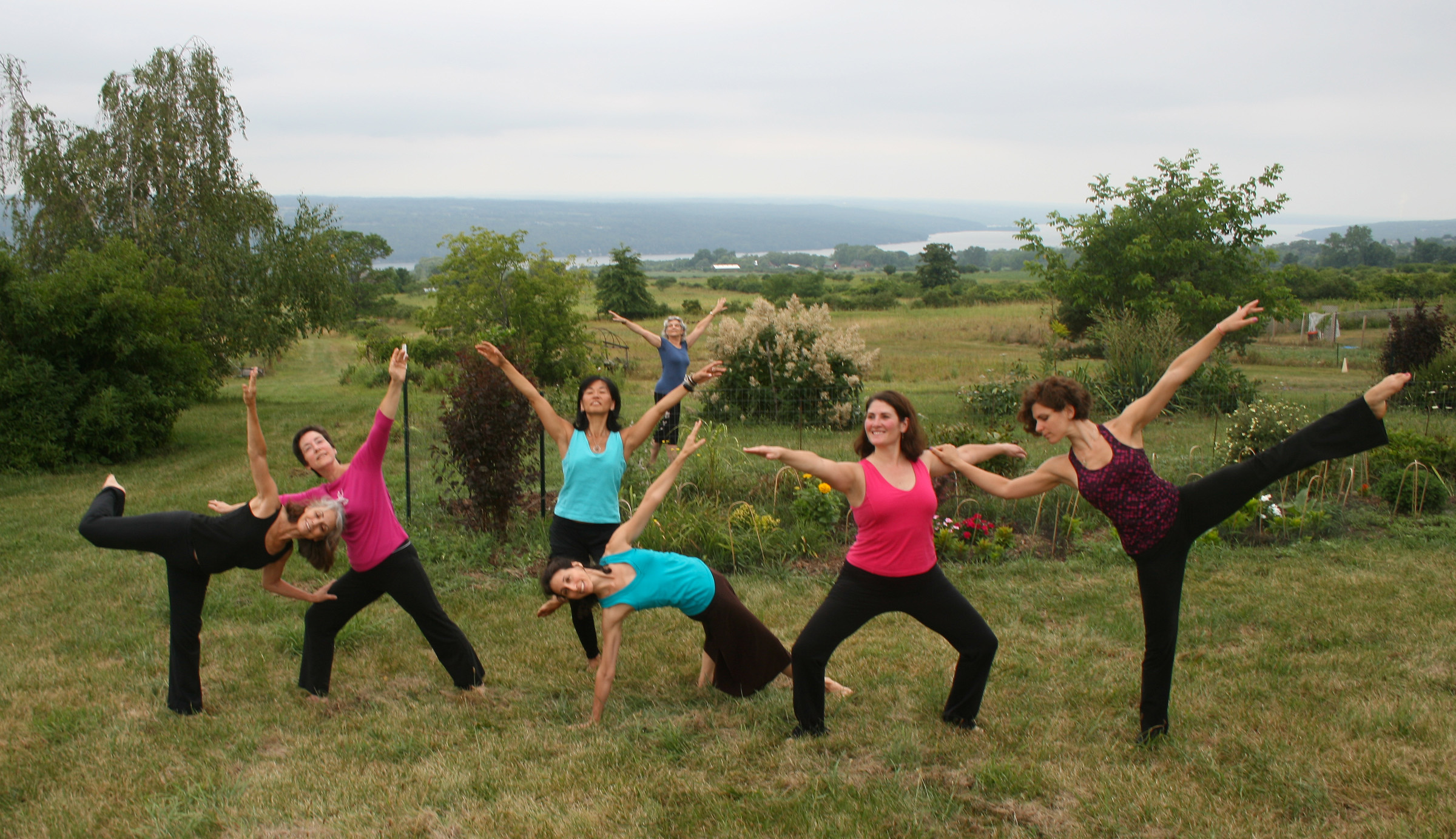 FOR IMMEDIATE RELEASE: 2 August 2012
CONTACT: Jeanne Goddard, Steven Stull
crsbarn@lightlink.com
www.operacowpokes.com
607.257.2043

MOVING LANDSCAPES V: Dance for Localvores at CRS Barn Studio

Enjoy beautiful dance in a beautiful setting, at the CRS Barn Studio's Moving Landscapes V: An Evening of Dance and Music on SATURDAY, AUGUST 18 at 7:30 pm, at the CRS Barn Studio, 2622 North Triphammer Road in Ithaca.

The annual Moving Landscapes series continues the CRS Barn Studio tradition of bringing innovative dance and music partnerships to Ithaca audiences. This year's event will proudly showcase Ithaca talent, featuring live music and a variety of new work by dance artists who have been working together consistently throughout the summer. Choreographers include Jeanne Goddard, Lisa Bertuzzi, and Karen Koyanagi, in collaboration with dancers Jessica Gaby, Risa Lieberwitz, Yvette Rubio, and Lauren Schler. Tandemonium Yoga Dance and Music Collective will also perform.
Moving Landscapes V includes both outdoor and indoor explorations of space, time, and energy as images are captured and communicated through movement. Beginning with an outdoor prologue performed in the adjacent gardens, with a panoramic view of Cayuga Lake as a backdrop, choreographed pieces will alternate with music and dance improvisations, some of which will involve audience members in a lively creative process. This is a rare opportunity to see choreographic work in all stages of development and to observe dance-making in action, in an informal setting.
Ms. Koyanagi restages, "Nightfall", an ensemble piece that deals with change, danced to compositions by Marian Amacher and Malian musician Habib Koite. Ms. Goddard will present both an ensemble piece, "Recuerdos", to the lush, sultry music of Ernesto Lecuona, and a comical, character-based solo entitled "The Bee-keeper's Wife" with pianist John White at the keyboard. Ms. Bertuzzi will perform a lighthearted solo accompanied by the Bach Cello Suites. Tandemonium will bring to the program their athletically powerful and artistically inspiring pieces, blending yoga and lyrical modern dance. Their innovative choreography accompanied by inspiring music transports audiences to a world of beauty, serenity, and wild imagination. It's fun, playful, and meditative!
Additional highlights of this year's concert include a range of jazz standards and musical improvisations performed by baritone Steven Stull with pianist John White, and a second original music video created by composer Allen Fogelsanger.
A reception following the performance will give audience members a chance to meet the artists and even offer feedback on dance works in progress. The performance will take place rain or shine. Admission is free, with donations accepted at the door.

For two decades the CRS Barn Studio has offered high quality, audience-friendly music and dance productions both outdoors and indoors at the CRS Growers organic vegetable farm on Triphammer Road. In addition to opera and musical theatre productions, artistic directors Jeanne Goddard and Steven Stull have regularly brought together dancers and musicians from Ithaca, Cortland, Binghamton, Geneva, Syracuse, and beyond, to present concerts of new music and dance in their intimate studio theatre. Audiences return again and again for the relaxed atmosphere, the quality of the performances, and the sensational sunset views of Cayuga Lake.

Steven Stull and Jeanne Goddard founded the CRS Barn Studio performance space in 1990. Both artists have over 25 years' experience performing, writing, directing, and producing music and dance events in traditional and non-traditional venues. Stull holds degrees in vocal performance from Oberlin College Conservatory and the Eastman School of Music, and has performed with symphonies and opera companies across the US and internationally. Goddard came of age in the avant-garde dance world of the 1970's, trained and performed with Bill T. Jones/Arnie Zane and many other choreographers, and has run the dance program at Wells College since 1987.

Moving Landscapes V: An Evening of Dance and Music
SATURDAY, AUGUST 18 at 7:30 pm
Rain or shine
CRS Barn Studio
2622 North Triphammer Road, Ithaca
Free admission - donations accepted at the door.


-30-









*************************************************************

Steve joins the West Virginia Symphony for
Grant Cooper's

Boyz in the Wood


November 8-16, 2012
In various cities across West Virginia
visit http://wvsymphony.org/ for more information

See you soon!


CRS BARN STUDIO 2622 N. Triphammer Road, Ithaca, NY 14850
info: 607.257.2043 crsbarn@lightlink.com www.operacowpokes.com





Back to: the CRS Barn Studio Homepage

contact us: crsbarn@lightlink.com

this and all pages copyright 2012 CRS Barn Studio/Steven Stull